From 10 am to 10 pm over five days, the Dubai Watch Week 2021 is said to be the best watch event ever. The crème de la crème of the watch industry gathered in 25 degrees warm Dubai, over 40 luxury brands exhibited and numerous educational activities took place. Adresta was invited to contribute not only in one but in two panels at the Horology Forum.
Founded in 2015 by Ahmed Seddiqi & Sons, Dubai Watch Week is a biennial event that provides an educational platform to share knowledge, build connections and celebrate watchmaking. The event also features several immersive activities such as Masterclasses, the Horology Forum, Creative Hub, Activations, Christie's auctions, Collectors Lounge, and impressive Entertainment.
Adresta learned from watchmakers, met friends and clients, discussed with journalists, exchanged with experts, and spread their vision on how we experience ownership of products in the future. All in all, it was one of the best experiences for the tech startup that started as an industry outsider. "I was overwhelmed by the number of participating brands, industry experts, and panelists", says Leonie Flückiger, who was invited to the Dubai Watch Week by Hind Abdul Hamied Seddiqi and her amazing team. "At the Dubai Watch Week, it was so easy to exchange with the top management of the brands, founders, or watchmakers itself. In only five days, this would've never been possible back home in Switzerland."
Horology Forum
An original concept created by Dubai Watch Week, the Horology Forum is an intellectual space comprised of free-flowing discussions between master craftsmen, captains of industries, visionaries, and seasoned collectors.
Adresta on Panel 1: Cryp Tic-Tac-Toe, Where'd Human Error Go?
A panel deciphering luxury's ascension to Crypto and how it transcends limits. The panelist examined the global fascination with the intangible: Crypto and how it is being used by luxury industries and affiliates. Are we transitioning further into the meta sphere where digital twins have become necessary to survive? The panel discusses the current elimination of 'human error' and its ripple effect on our professional lives.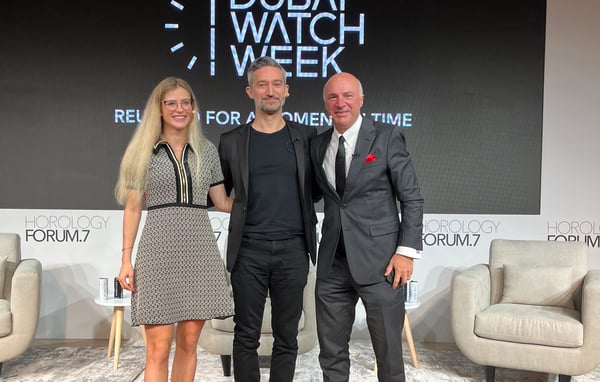 About Kevin O'Leary:
Kevin O'Leary is a watch collector and the Chairman of O'Shares ETF Investments and Beanstox an automated internet-based investment advisory service. He also holds investments in over 30 private venture companies across a wide range of sectors. He is also an investor/host of ABC Television's four-time Emmy Award-winning venture capital reality programs "Shark Tank" and "Beyond the Tank" produced by MGM/Sony/ABC.
About Dr. Noah Raford:
Dr. Noah Raford is the Chief of Global Affair, "Futurist-in-Chief" at the Dubai Future Foundation and a former advisor on futures, foresight, and innovation in the UAE Prime Minister's Office. Noah helped establish the country's first national foresight unit, helped establish the Dubai Future's Foundation and the Museum of the Future, and is part of a team that identifies emerging opportunities, develops strategic partnerships, and prototypes future initiatives for the Government of Dubai.
Adresta on Panel 2: Carte Blanche
Only leave unasked what you are willing to never know!
In every panel leading up to the seventh Horology Forum grand finale 'Carte Blanche,' white cards will be available for audience members to anonymously write down any question, in general, or for a specific panelist. At the end of every panel, they must then slip their unsigned 'carte blanche' question into the 'Carte Blanche box.' The finale panelists will see to it that your silent questions are answered!