ETH spinoff Adresta is officially bringing the digital safe for luxury watches to the Android and iOS app stores, making it ready for worldwide use. The app can be used to securely store and manage watches and all associated images and documents to prove authenticity. The official launch was preceded by an extensive beta test phase with its own watch community and selected beta users.
In addition to security, Adresta also offers more transparency in the watch industry and strengthens emotions around the topic of watches through the digital overview. With the new Adresta app, watch owners can easily record their timepieces, create wish and waiting lists, and receive news from the world of watches. Pictures and documents, such as the receipt, can be attached to the digital watch twin, and events, such as a service, can be added transparently. "The app gives a watch a digital fingerprint that, in the event of a sale, can not only prove its condition and complete history but can also be handed over to the new owner," says Nicolas Borgeaud, co-founder and COO of Adresta.
All relevant data always at hand
The spinoff of ETH Zurich and Helvetia Insurance uses the latest technologies to document the life of a watch and, in the future, other luxury products. In the future, watch owners will be able to book a service or repair near them with a certified partner without worrying and will be kept up to date on the status in real-time. Next, the startup will integrate the already launched watch insurance, which can be taken out completely digitally, into the app. This will allow users to insure their watch easily and paperlessly in just a few clicks. In the event of a service, theft, or loss, users will always have all the relevant documents safely at hand in their Adresta watch safe.

The new Instagram around real watches
Users on the Adresta app have sovereignty over their data, which is only shared with the respective brands or service providers at the request of the watch owner. For the Swiss startup, data security and privacy is one of the most important features, yet watch owners can make their collection public under a pseudonym. The app was developed in close exchange with its own watch community and extensively beta tested last year. "In the course of these tests and based on feedback from beta users, it became clear that a community feature is very exciting. A place where watch enthusiasts can exchange ideas, come together to form groups with similar interests, and react to watches from friends," says Borgeaud. "We are internally working on such a feature, which we plan to launch at the beginning of Q3 this year."
More security and transparency when buying watches, in a sustainable way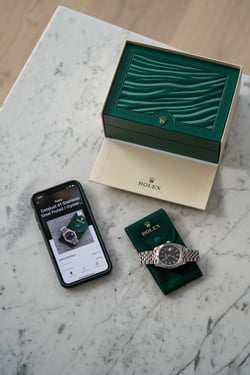 When a new watch is purchased from an Adresta partner, all information is transmitted digitally to the Adresta app. This means that user manuals, receipts, or catalogs no longer have to be printed, but can be automatically played into the consumer's watch safe by the manufacturer or retailer. Buyers gain insight into the watch's history, brands can communicate directly with owners, and relevant documents are stored on the blockchain in encrypted form. However, Adresta goes even further with its vision to digitize watches and create more emotions; as a watch can also be digitally recorded during service or sale. This allows owners to get a certification of their watch in the app as well.